In case you didn't know, October is Breast Cancer Awareness month, and I mean...come on, who doesn't love an excuse to wear the color pink?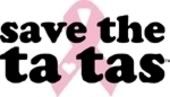 October is also National Cookie Month!
What doesn't one do on a day like this?
Bake cookies of coarse!! Pumpkin Chocolate Chip...
After they bake, make sure you feed some to your sick kid, just to keep him happy.
Find a little tag, and a pink pen..... My other one said "Save the Ta Ta's" LOVE IT!
I used tissue paper, tulle, a tag, cookies, and some love..
Show your support this month
And don't forget to "cop a feel" make sure you are lump free!